HEX offers a reward if you refer other people to HEX.
Not only do you receive HEX if someone uses your referral link when minting HEX from the AA lobby, but the referrer receives more HEX as well.  It is a win win for all parties involved. 
This guide will show you how to get your referral link as well as other handy tips for sharing your referral link.
1. Open Your Browser, Open MetaMask to Login
Open Google Chrome, and click on the Metamask Icon in your toolbar.
Login to MetaMask.  If you're already logged in, you can proceed to the next step.
4. Copy the referral address
You can copy the referral address by clicking on the icon in the screenshot (red arrow)
5. About the referral Address

When you open your referral link, you will see that it brings you to the main marketing website of HEX.  The end user would have to click on the go.hex.win link (red arrow) to enter the AA lobby.  You can update your referral link so it will bring users right to the Hex platform.  You will see below in red, that I added go. in front of the domain name for our referral address
https://go.hex.win/?r=0xE84eB41427d413AD136dCa7b986163842304fede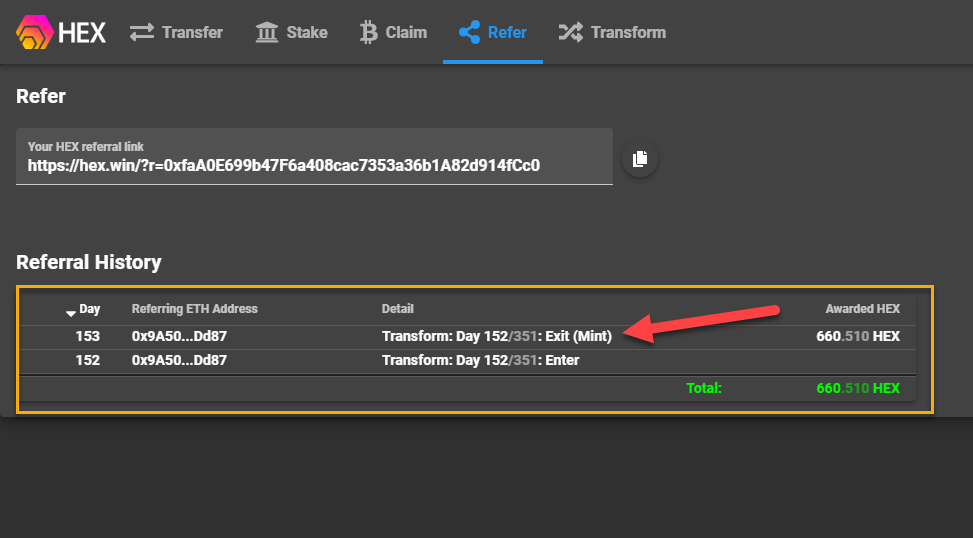 The refer tab also shows your rewarded HEX history.  You will receive an award if people use your referral link and exit the AA lobby for that day.
Did you find this guide helpful?
ETH or HEX Donations are appreciated!
Wallet Address: 0xE84eB41427d413AD136dCa7b986163842304fede